*By Suzie "Saucy Mama" Barhyte- Original Recipe!*
In our small town of Pendleton there are so many get-togethers where everyone pitches in with food and even decorating, so a great time can be had without host and/or hostess stress.  It also makes getting ready for a party as much fun as the party.  I have to bring an appetizer to one of those parties and leave for out of town early the next morning.  I am thinking really easy to make, really tasty, and really appetizing to look at.  Savory Smoked Salmon Spread fits the bill and I will still have lots of time to pack.
Savory Smoked Salmon Spread
2 – 8 ounce packages cream cheese
8 ounces smoked salmon, flaked (reserve about 2 tablespoons for garnish)
1-1/2 teaspoons lemon juice
1 tablespoon Saucy Mama Horseradish
2 tablespoon minced chives (reserve 1 tablespoon for garnish)
1 teaspoon Saucy Mama Hot Wing Sauce
Beat cream cheese until smooth.  Add remaining ingredients except for garnish and blend thoroughly.  At this point you can place the spread in a serving bowl or form into ball and wrap with plastic wrap.  Either way chill for at least 1 hour up to 1 day.  Place on serving platter topped with the reserved flaked salmon and minced chives, and surrounded with a sliced baguette or crackers.
I love to have this left over smeared on my morning whole wheat bagel and topped with thinly sliced sweet onion.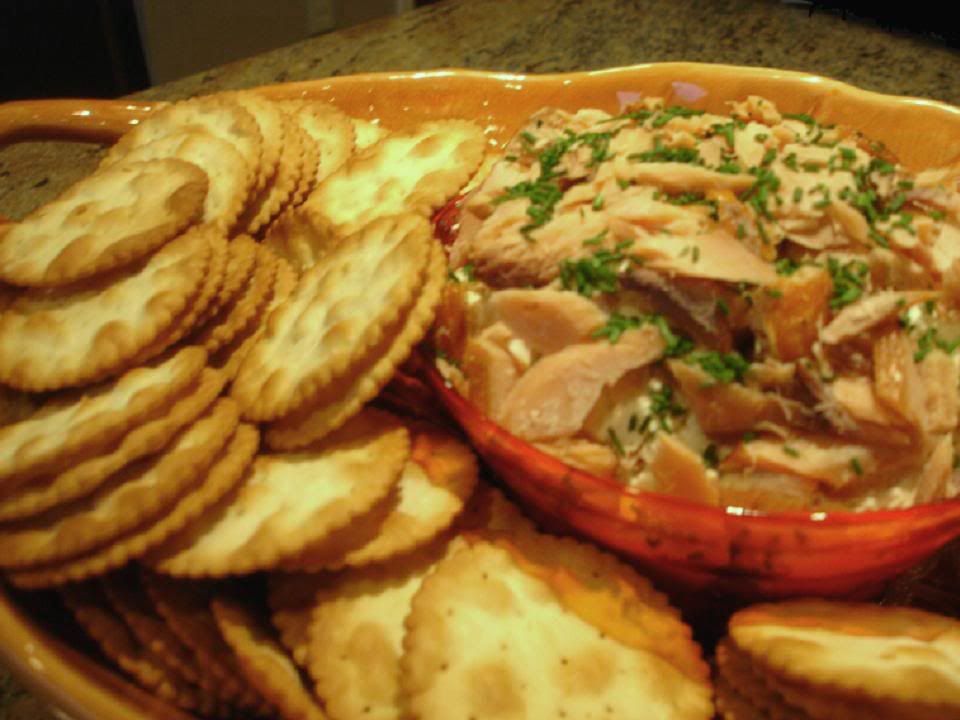 *By Suzie "Saucy Mama" Barhyte- Original Recipe!*
We just celebrated Mike's birthday.  His three sons Luke, 8 years, Ian, 6 years and Ben, 3 years, got to plan the party.  I got to be the driver, for shopping, and assistant in the kitchen.  The boys decided what their Dad liked doing best was playing games with them, so the perfect gift was SORRY! Sliders.  I do believe from Dad's reaction that they made a good choice.
Dinner couldn't have been easier.  We had rib steaks, that I had marinated for about 6 hours in Saucy Mama Cracked Pepper Marinade and then barbecued and topped with blue cheese.  Along with the steaks we had roasted carrots, and French fries.  I did all the prep before I went to pick up the boys after school, so we could spend lots of time browsing the store, picking out the perfect gift and birthday cards.  My Waring Pro Deep Fryer really helps the easy factor on meals like this.  It heats a gallon of canola oil to 325 in under 10 minutes and doesn't drop a great deal in temperature when the potatoes are added for perfect crispy fries.
DAD'S CRACKED PEPPER STEAKS
4-1 inch thick rib steaks
Saucy Mama Cracked Pepper Marinade
Crumbled Blue Cheese
Place 2 steaks each in 1 gallon zip lock bags along with enough marinade to thoroughly coat.  Marinate for at least 1 hour up to 24 hours.  Allow steaks to sit at room temperature for 15 to 30 minutes before grilling.
Place steaks over medium-high heat for a minute or two, you just want to get good grill marks.  Turn steaks and repeat on other side.  If using a gas grill reduce temperature to medium, if over coals move the steaks away from hottest part of grill and cook for about 7 minutes more for medium rare.
Remove steaks from grill, top with crumbled blue cheese and allow to rest for 5 minutes before serving.
ROASTED CARROTS
2 pounds carrots cut into 3 1/2 inch by 1/2 inch strips Food and Wine Three Herb Spice Marinade
Preheat oven to 425 degrees.
Place carrots on a rimmed baking sheet toss with enough marinade to coat.
Bake for 25 to 30 minutes until tender and golden.
Keep warm in oven until ready to serve.
FRENCH FRIES
4 Russet Potatoes into 1/4 inch sticks
Vegetable oil
Kosher salt to taste
Rinse potato sticks in cold water until the water runs clear.  Place potatoes in large bowl of ice water and let stand at least 1 hour.  This can be done a day ahead and kept in the refrigerator.
If not using a deep fat fryer pour 3 inches of oil into a deep, heavy cast iron skillet.  If using a deep fat fryer follow fryer instructions.
Bring oil to a temperature of 325 degrees
While oil is heating drain potatoes and thoroughly dry.  I keep a large bath towel that is only used in the kitchen for this purpose.
Fry potatoes in small batches.  Cook for about 3 minutes,  remove and drain on layers of paper towels.
When all of the potatoes have gone through their first cooking increase temperature of the oil to 375 degrees.
In small batches, again, fry the potatoes to a golden brown, about 4 minutes.
Drain on paper towels and season with kosher salt.
The kids did help with this recipe, but I did keep myself between the deep fat fryer and them.  You also have to be careful that they don't sneak all the fries off the serving plate before they get to the table.  Those little guys are really good at stealthily opening the warming drawer.
If there is a time pinch you can fry the potatoes only once.  Bring the temperature of the oil to 365 degrees and cook the potatoes until golden, about 7 minutes.